Cut 2 8lb Pork butts in half and dry brined them 24 hours. Lit the Bronco (very full basket of KBB) with 2 fire starters and tossed in a big applewood chunk. Wanted to cook them hotter, let it preheat and hit them heavy with MMD. Got them on just after 7am. Checked probe placement 3 hours in. After 5 hours fuel was starting to run low (should've used 1 fire starter probably) and bark was good and they started to stall. So put them in foil pans and covered them and put them in the oven at 285F. By 1:40pm the boneless chunks were ~203F and probe tender everywhere. Moved that foil pan to the oven to hold at 170F. Let the bone in pieces go until 205F and they were probe tender just after 2pm, then put them in the hold too. Planning to chop at 5:30pm.
Trimmed, cut in half, and dry brined 24 hours.
Mustard slather and heavy layer of MMD.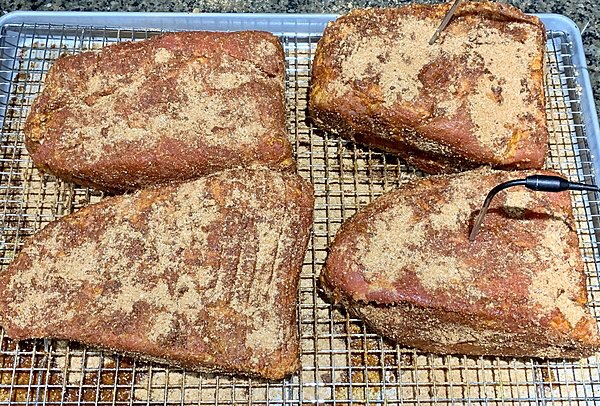 Meat on preheated Bronco.
Running out of fuel, bark was set, time to wrap & move to oven.